Accommodation Features·Facility
Accommodation Features·Facility

In-facility map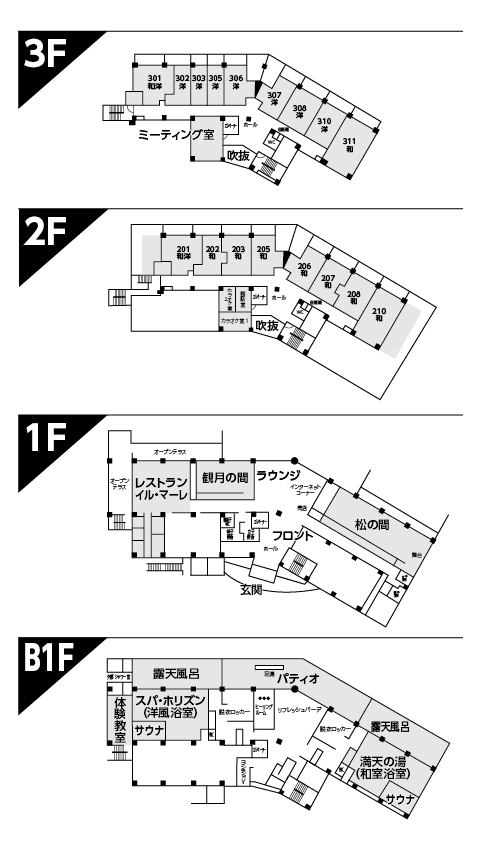 Hotel Facilities
lobby

Kangetsu-no-ma

Matsu-no-ma

Karaoke room

Open Terrace
Facility information
Number of rooms

Total number of rooms 17:Western-style room 7 rooms / Japanese-style room 8 rooms / Japanese + Western room 2 rooms
Western-style breakdown:2 single rooms(-) / 1 double room(-) / 2 twin rooms(-) / 2 suites(-)

Room supplement

Twin / Western style suite can accommodate 3 guests with extra bed

Standard room facilities

All rooms Bath toilet / All rooms shower / All rooms Air conditioning / Television / Refrigerator / Trouser press (including lending)

Internet related

All rooms available
[Connection method]Wireless LAN
[PC rental]No
[Internet connection]Free

Amenities

toothbrush·Toothpaste / bath towel / face towel / shampoo / rinse / body soap / pajamas / hair dryer / duvet / shaving / shower toilet / cotton swab / comb·brush

Facility content

tennis(Toll) / banquet hall(Toll) / Karaoke facility(Toll) / barbecue(Toll) / non-smoking room

Service & Leisure (including arrangement)

Massage machine(Toll) / Tennis(Toll)

Credit cards available locally

JCB / VISA / Master / AMEX / NICOS

Standard check-in time

15:00

Standard checkout time

10:00

Supplement for amenity

●All rooms are non smoking.Please give me cigarettes in the terrace and smoking room.
●The curfew is 24 o'clock.Please ask the front desk when you go out.
●The hotel does not accept camping with pets.Please understand carelessly.

Cancellation provisions

7 days ago - 1 day before: 1,080 yen per person
On the day of arrival:100% of the accommodation fee
Cancellation without any contact:100% of the accommodation fee
※If there is a cancellation rule setting for each accommodation plan, that will be given priority.
Large Communal Bath
Open Air Bath

Yes (There are also men and women (including time change) · Charges are not allowed)

Number of baths

"Outdoor bath] Man: 1 Female: 1 Mixed Bath: 0
[Inner bath] Man: 2 Female: 2 Mixed Bath: 0
[sauna] Man: 1 Female: 1 Mixed Bath: 0

Other bath facilities

sauna

Bath time available

Accommodation use 6:00 to 8:00 · 11:00 to 23:00
Day use return from 11:00 to 22:00